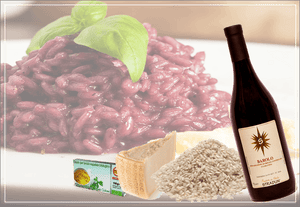 Kit Risotto Al Barolo
Throughout Italy, risottos are often prepared with excellent wines, and in Piedmont, a land of rice and vine cultivation, Risotto al Barolo, the undisputed King of all the Piedmontese wines, could not be missing.
From this union comes one of the most representative dishes of this splendid region.
Barolo, thanks to its robust and decisive taste, is a key ingredient of this dish: the King of the Langhe, in fact, gives the risotto an irresistible flavor and aroma.
Pairing the wine follows a very clear rule here: drink the same wine chosen in the preparation of the dish!
Grab one of our Barolo labels in combination with your choice of the ingredients necessary for the preparation of the recipe:
Medium-grain, superfine Italian Carnaroli rice (35oz)

Three years old Parmesan cheese (3/4lb)

Organic vegetable stock cubes (3.8oz)
Or, instead of Carnaroli rice, you can grab an even easier to use pack of pre-mixed "Ready to go" risotto (8.8oz).
All Top Quality Italian Products - like our wines.
To make this recipe at home is quite simple, but you need to follow all the steps carefully to let the rice gradually absorb the aromas of the wine and be creamy at the right point.
Read HERE our recipe and tips for preparing a perfect Risotto al Barolo! With this tasty and delicious dish (and with the paired wine), you will surely be able to pleasantly surprise your guests!
---
We Also Recommend